St. Louis Grandparents' Rights Attorney
Reliable Legal Representation for Missouri Grandparents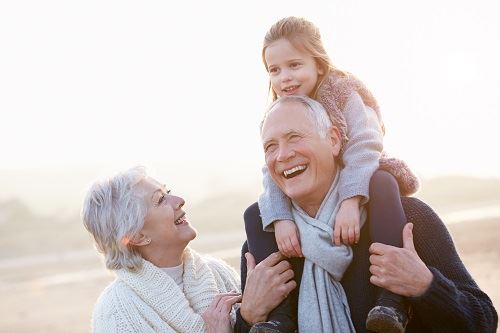 Every family faces unique challenges during divorce proceedings, including issues involving grandparents' rights. Unlike a child's parents, grandparents do not have the automatic rights to visitation after a divorce.
During such an emotionally charged time, it is imperative for grandparents to proactively seek the legal guidance of a St. Louis County grandparent rights lawyer in order to obtain the visitation and/or custody rights that are desired. No matter how complicated your family concerns may be, we will work tirelessly to defend your rights whether or not we take your case before a judge.
When can I visit my grandchildren?
According to Missouri state law, a child's grandparent may ask a court for visitation rights with a grandchild if the child's natural parents have decided to sever contact with the grandparent. But the court will typically only grant this right in only limited circumstances.
Grandparents can petition the court for visitation rights if:
One of the child's parents has died, and the other parent denies the grandparent reasonable visitation. In this case, the grandparent has the right to pursue visitation
The child or children have lived with his or her grandparent for at least six months within the last two years before the grandparent seeks visitation rights.
The child or children's parents have filed for divorce - a grandparent can immediately intervene in order to pursue and secure visitation rights.
Can a Grandparent get Custody in Missouri?
In Missouri, a grandparent can request custody of their grandchild by pursuing an adoption. The court must find that each parent is unfit, unsuitable, or unable to be a custodian and that the award of custody is in the child's best interests.
Missouri courts automatically presume custody with natural parents is in a child's best interests unless sufficient evidence warrants a different arrangement.
A grandparent can seek visitation rights with a grandchild in various circumstances, including when the child has lived with the grandparent for at least six months within the 24 months before the grandparent files a petition seeking visitation.
Custody battles between parents and grandparents can become contentious and must be dealt sensitively by an experienced family lawyer.
Give Us a Call for a Free Case Evaluation - Serving St. Charles County, Chesterfield, and the Greater St. Louis Area
The attorneys at our firm, located in Chesterfield, represent clients throughout St. Louis, St. Charles County, and Jefferson County, as well as across the state of Missouri. Call us to schedule a free initial consultation to discuss your individual legal needs.
Call our office anytime during business hours to schedule a case consult.